We had a fun filled Easter weekend. We have enjoyed one too many egg hunts and have had way too much candy. The kids couldn't be happier. On Saturday we had fun at Grandma Adamson's dying eggs. Parker and Kennidi love being in charge of their eggs.
Pierce loved it so much, and I'm guessing he thought it was juice cause he just had to try it.


He wasn't so happy when he realized it was vinegar.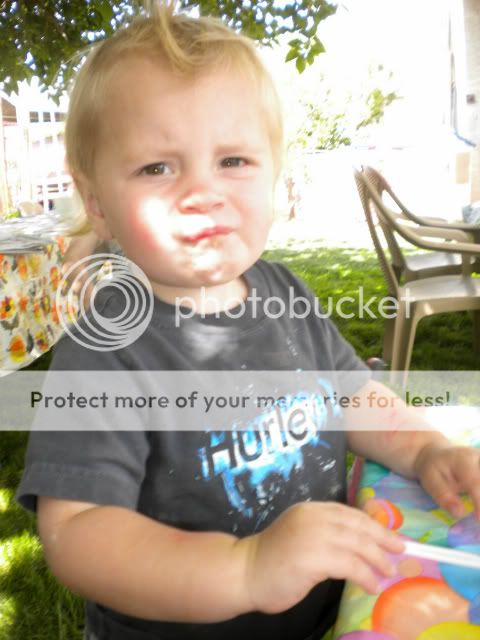 Things got really messing when he started dying his hands. The shirt had to come off to reveal his seal tatoo that he is so proud of. So hardcore.
You can tell from Parker's face he wasn't too happy about us inturupting his candy eating to take pictures. Pierce on the other hand had already been eating all his candy since his strategy in the egg hunt was to find a egg, open it and eat it right then and there.

That night we went to the Easter Pagent. We had fun eating and playing with the kids till it started. It was a really fun night minus the fact that I wanted to die because of my annoying allergies. I swear it has never been this bad. It is miserable!!
Sunday morning the kids had fun looking for clues in eggs. Every year we do a a scavenger hunt to find their Easter baskets.

That night we had more fun at Grandma Fischbecks house. I was all pictured out by this point so unfortuately I have nothing to show for that. It was a great weekend!
Happy Easter!!