For the last 3 years I have had some serious Rocky Point withdrawls. I am used to going every year with my family for spring break. It's been a while but my little family was finally able to join the group this year. Yahh!!! I was soo much fun and it always brings back such fun memories for me as kid. The kids and I rode in the motorhome on the way down. Poor Mike was alone part of the way until I decided Pierce was too much of a handful running all over the place. The kids thought it was so cool not having to be seat belted in.
Boy would I love to know what Parker is thinking about..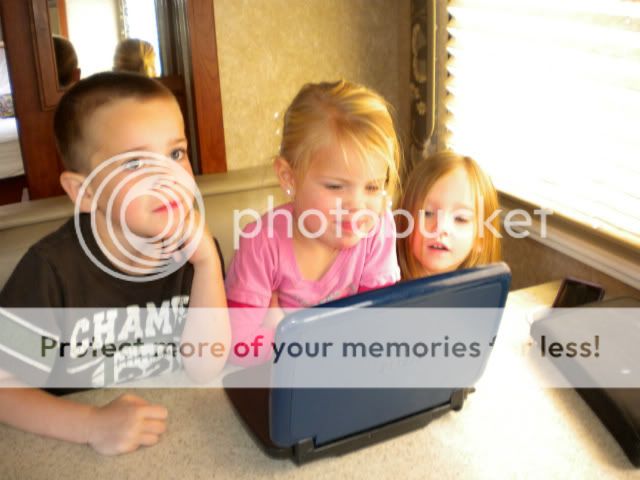 This year we did things a little differently. Usually we would camp next to the motorhome with my family, instead we stayed at Los Palomas right down the beach. Our friends the Mills came with us so we split a 2 bed room condo. The place was super nice which made it worth it to have 7 young kids in one place. It was a little chaotic but I didn't expect anything else. The kids all had a blast together and we are definitely planning a future trip down there together. We had the best of both worlds this trip. We were able to spend time with my family on the beach and eat meals together. And we were able to come back to the condo and relax and go to the pools. It was perfect.

Rocky Point wouldn't be the same without early morning tortilla runs. For the past 15 plus years we have been going to Pedro who makes the best tortialls right in his back yard. We bring butter and cinnamon sugar and make fresh barney's. This is a dangerous tradition as it helped pack on few extra lbs. this trip. But it was worth it!!
Another one of my favorite traditions is when we go on late night taco runs. Is is sad that my favorite traditions revolve around food?? Oh well, what can ya do. I was sad to find out that the place we usually go to closed down. Probably because it was in the middle of no where in a shaddy neighborhood. This new place was just as delicious.
Part of the crew
I love this face. My baby is 18 months. And all I can say is YAHH for nursery!!!