We just got back from our family trip to California. We went to Disneyland/California Adventure for the main part of the trip. This year we did a three day pass which was nice because we wern't so rushed to do it all in one day. The kids were in heaven, we had so much fun! Pierce was in awe of everything and minus him getting his head stuck in between bars, while waiting in line, he had a blast:)Parker felt like a big kid, he was able to go on all the rides except Indiana Jones. He kept wanting to repeat rides over and over. It's a good thing we were there for three days.
This ferris wheel was huge, and it some off the compartments would swing. It was actually pretty scary. We laughed a lot of the time because it was so freaky. We thought it was going to be a nice relaxing ride because all of our kids were allowed on it and they didn't even have you seat belted in. Well the first time it swung Parker went flying and hit the ground of our compartment. Luckily he thought it was funny but it was a intense ride.
They had all their cute Halloween decorations already up.
Mike's parents and Austin came with us, which was great because we were able to switch off going on rides. We had a lot of fun with them there!

Little Mermaid was definitley a favorite!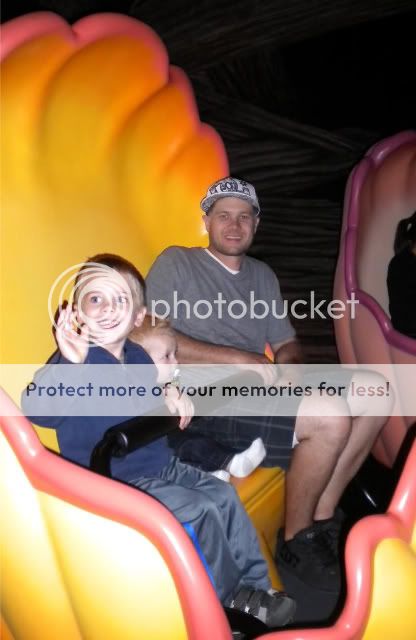 We were able to make it to the beach for one day. It was a little chilly so we didn't even get in the water. But I just love being by the ocean.
This was Pierce's first trip to the beach and he umm loved it!
My sassy Kennidi striking a pose.
Yummy
The kids loved getting barried in the sand and "hiding from people."
It was fun pack trip and we were exhausted by the end of it.