A couple weeks ago right after I got back from my family Idaho trip, I left on a girls trip to Idaho. My super generous friend Brooke decided that for her graduation present she wanted her mom to have us come up for an all expense paid trip to their beautiful house in Couer d' alene. This was one of the most unforgetable trips I think I will ever experience. And on the plus side I got to experience this with some of my best friends since elementary school. Sorry there are a lot of pictures but this trip was packed full of stuff and I want to remember it all.
The girls
Their gorgeous house was in the middle of the forest right on lake. Soo pretty!
Our first morning we made a new friend. Their pet deer, Daisy. Yah I said pet DEER!! This was so freaking crazy I still can't get over it. To make a long story short, the mom deer left daisy on their driveway and after a couple days of waiting for the mom to come back Brooke's mom adopted Daisy into the family. She was so tame, just like a dog. And I'll never forget that morning when her mom yelled out "Daisy, Daisy" and this random deer comes frolicking out of the forest. Oh goodness it was priceless.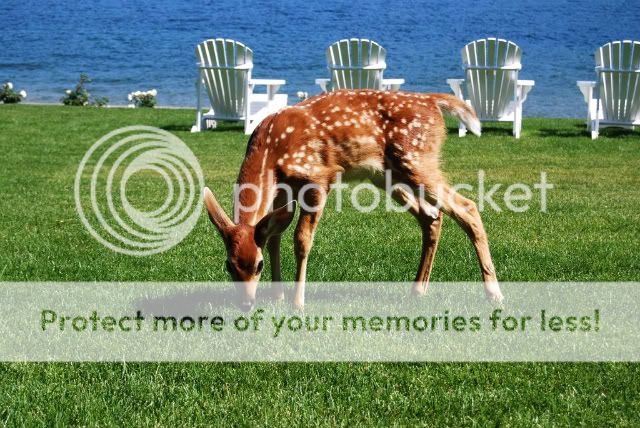 We all took turns giving Daisy her bottles. This deer loves her milk!

On our first day we went out shopping at this thing they do once a year called, Art on the Green. They had tents set up all down the main road. Her mom came with us and she was so fun. Man alive can that women shop!
We had a blast on the wave runners. We loved driving around looking at all the houses.

We definitely had to make a stop at Hudsons, a place that is famous for their hamburgers. It was very tasty!
We crowded on their 3 person tube and seriously I don't remember laughing more.
Of course we had to attempt some stunts for the good old days.
Probably my favorite part of the trip was our spa day at the resort. I have always wanted to do this and it was the most relaxing thing, getting pampered all day long. I could get used to this:)
My last day Brooke suprised us with Parasailing. Once again this is something that has been on my bucket list. It was so much fun. The scenery with the mountains and the lake was beautiful. Great place for parasailing!
I loved their pool. The beams on the celing were amazing. The whole house was beautiful!

My first corndog. The girls freaked out when I said I've never had one. I have to admit it was really good and soo much better than it sounds.
One of the days we decided we needed to put on big hats and red lipstick. I know we are so lame but it was a great photo opt. I love this picture cause we are beeing super cheezy. We kept trying to fake laugh but it always turned into real laughing. I loved this trip for all the obvious reasons but more than anything I just loved beeing a crazy girl again, not having any responsibilites. It was great!! I did miss my family, it was weird being away from them for that long. But I figured something like this would probably never happen again. Unless..... Broooke you feel like celebrating anything in the future:)